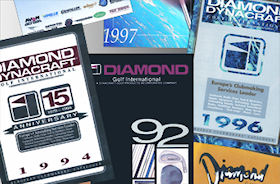 There are now many golf club companies offering different forms of custom fitting but many do not come close to a complete custom fitting that will truly help all golfers in their struggle for improvement and enjoyment of this great game.
That does not mean to say that no company can, but most simply are not set up to supply the full range of components required to offer the real deal. True custom fitting should be provided by a qualified and competent clubfitter. Only he or she is able to truly analyse your potential and prescribe the best set of components to help you improve.
So, when making your next equipment purchase, please ask yourself one simple question. Which is more important – the perception of quality associated with the brand, or the quality of the fitting process and club building skills provided by the club fitter?
….You can rest assured that the high quality of the components used is exactly the same as the world's best known club brands, and in many cases far superior.
True quality comes only from true or total custom fitting and the quality is as much in the build as it is in the components used.
So, what are you waiting for? Are you thirsty for more information about the many facets of custom fitting? If so, why not take a look at our 'Knowledge Section'. Here you will find useful articles and text about what to look for with your equipment.
If you are hungry to know where you can find a qualified club fitter in your area, please give us a call on +44 (0)1903 726999, or drop us an email to info@diamondgolf.co.uk and we'll be only too pleased to make a recommendation.