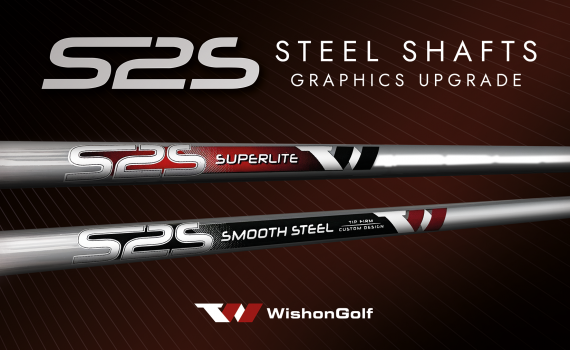 CHARLEY HULL WINS LADIES EUROPEAN TOUR EVENT IN ABU DHABI — WISHON S2S STEEL UPDATE FOR 2019 — LAMKIN'S NEW FINGERPRINT TECHNOLOGY WITH JUSTIN ROSE
England's Charley Hull earned a wire-to-wire win in the Fatima Bint Mubarak Ladies Open in Abu Dhabi to claim her second Ladies European Tour title.
Hull, 22, took a one-shot lead into the final round and a three-under 69 saw her finish a shot ahead of Norway's Marianne Skarpnord on eight under.
Good way to start the year! Buzzin 😁 #FBMLadiesOpen pic.twitter.com/dHDTWd0OgB

— Charley Hull✌️ (@HullCharley) January 13, 2019
_________
Wishon Golf News
For 2019, Wishon have revitalised the look of the popular S2S Superlite & Stepless steel iron shafts. Both will feature a smart modern screen print graphic which replaced the traditional self-stick labels, plus a plain, flex designation self-stick decal.
The specifications for both shafts remain exactly the same as before, but our S2S Stepless shaft will now be known as S2S Smooth Steel.
Please don't hesitate to get in touch if you have any questions regarding the S2S Steel shafts.
_________
Lamkin's new Fingerprint Technology with Justin Rose
@JustinRose99 says, "The Sonar grip feels absolutely unbelievable in my hands."
Hear what else Justin Rose has to say about @LamkinGrips new Fingerprint Technology: pic.twitter.com/uusu3PIFlJ

— Lamkin Grips (@LamkinGrips) January 3, 2019
News from our manufacturers
Mitsubishi Chemical

From @PluggedInGolf " The key word in describing any Diamana shaft is always 'smooth.'  That's been the theme from model to model and generation to generation.  The new DF Series does not let that fall by the wayside."https://t.co/9E3DEAvB66 pic.twitter.com/y8f8leycQU

— Mitsubishi Chemical Graphite Shafts (@mcagolfshafts) January 10, 2019
Golf Pride
All Golf Pride in the Top 5️⃣ after 18 holes in Hawaii. #1GripOnTour https://t.co/903z5dx67i

— Golf Pride Grips (@golfpridegrips) January 4, 2019
UST Mamiya
In addition to using lower resin carbon fiber material, we added more carbon fiber in key areas for additional stability. Increasing stiffness without sacrificing feel for all golfers.
This is the future of a light weight wood shaft. #FlyWithHeLIUM https://t.co/j6Xehkfb8m pic.twitter.com/oJpfAONqCo

— UST Mamiya Golf (@USTMamiya) January 3, 2019
Graphite Design
Pro's Choice Golf Shafts, Inc. announced today that the winner of the Sentry Tournament of Champions held at the Plantatin course at Kapulua in Muai, Hawaii was playing a Graphite Design Tour AD BB-7 X-Stiff flex wood shaft in his Callaway Epic Flash Driver and a Graphite Design Tour AD DI-8 X-Stiff flex wood shaft in each of his Callaway Rogue #3 and #5 fairway metal woods.
___
UK Freephone: 0800 083 7388
USA Tollfree: 844-552-3437
Canada Tollfree: 1-844-552-3437