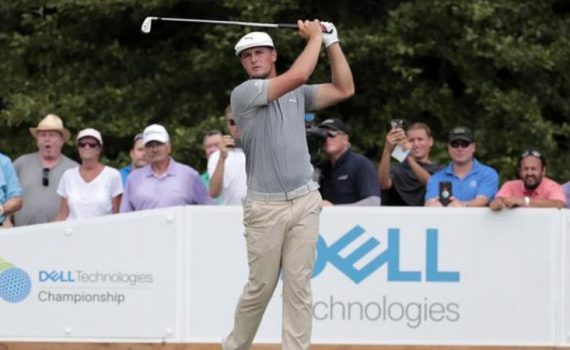 — BRYSON DECHAMBEAU SECOND VICTORY AT DELL TECHNOLOGIES CHAMPIONSHIP —

Bryson DeChambeau won his second FedEx Cup play-off event in as many weeks with victory at the Dell Technology Championship at TPC Boston. The 24 year old carded a final-round four-under-par 67 to win by two shots from England's Justin Rose.
_________

News from our manufacturers


Lamkin

What gives SONAR grips their unmistakable & "WOW"-inspiring feel?

Lamkin's new FINGERPRINT TECHNOLOGY with intricate micro-textures precisely positioned throughout the grip's surface to deliver outstanding torsional stability, slip-free traction and all-weather adaptability. pic.twitter.com/iN7ZifOgv7

— Lamkin Grips (@LamkinGrips) August 28, 2018
UST

Recoil Prototype Utility takes solo second @delltechchamp 🚀 by the #3 Fed Ex Cup player in the field. #USTMamiya #PerformanceAlways pic.twitter.com/pEab4SMP4D

— UST Mamiya Golf (@USTMamiya) September 3, 2018
Aerotech
"The only time my prayers are never answered is on the golf course."
— Billy Graham #MondayMotivation

— Aerotech Golf (@AerotechGolf) August 27, 2018
KBS

KBS Golf Shafts has given itself a chance of another Ryder Cup position by winning the $1.75 million Made in Denmark Tournament over the weekend. The Englishman emerged from a four-man playoff to earn his third victory of the season. He added Denmark to wins in the BMW International Open and Indian Open, which he also won in extra holes, all with KBS C-Taper Lite 115 Limited Edition Black throughout his bag. Congratulations go out to all of the KBS Golf Shaft Players worldwide this week and to the victor on the European Tour

Wishon Golf News
The 12 Key Specifications of Custom Clubfitting for Golfers
Tom Wishon talks us through the 12 Key Specifications of Custom Fitting for Golfers.
Hopefully you have now received your new copies of the 2018 Wishon Golf and Diamond Golf brochures.
UK Freephone: 0800 083 7388
USA Tollfree: 844-552-3437
Canada Tollfree: 1-844-552-3437
Alternatively, you can view online versions at the links below: