A combination of the power of graphite and the stability of steel: an entirely new category of shaft.
At the core of the Steelfiber shaft is filament-wound carbon fiber. The filament winding process yields a seamless and incredibly uniform bending golf shaft. The high strength-to-weight ratio of carbon fiber delivers the desired stiffness and strength properties at lighter weights than steel, and the lightweight properties of graphite increase clubhead speed and promote greater distance. In addition, the vibration dampening properties of graphite reduce the risk of injury and player fatigue during the round.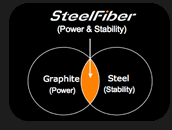 SteelFiber Hoop Strength vs Graphite
When comparing the hoop strength of a SteelFiber shaft to a standard graphite shaft under the same load, it is easy to see the superiority of the Aerotech technology. The SteelFiber's superior hoop strength prevents the shaft from deforming during the swing and at impact for unmatched stability during the golf swing.
SteelFiber Hoop Strength vs Steel
Comparing the hoop strength of a SteelFiber shaft versus a steel shaft under the same load is equally impressive. The SteelFiber shaft has superior hoop strength to even the steel shaft giving it better stability than the benchmark of the industry.
Effect of SteelFiber on Wall Thickness
Because the density (weight) of the steel fiber is 5x that of graphite, the shaft weight can be manipulated with 1/5th the amount of material which helps minimize wall thickness. This eliminates the "boardy" feel often associated with thicker walled composite shafts promoting a more solid feel through impact.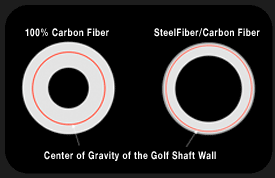 Perimeter Weighted Golf Shaft
As the world's first perimeter weighted golf shaft, Aerotech's SteelFiber adds more stability and forgiveness with every shot. The steel fiber around the perimeter creates a greater density (weight) on the shaft's surface that moves the shaft wall's center of gravity (CG) outward, thus increasing the shaft's Moment of Inertia (MOI).